All our dogs live in our home and are an integral part of our family.  Our puppies are all raised in our home as well, so they will be used to the general hustle and bustle of a busy household which includes other dogs.  Health and temperament are very important to us in our breeding choices since we believe their most important role in life is to be a much loved family pet.  Anything else they may do (ie show, work, agility etc) is a bonus.  With this in mind our puppies are socialised with both adults and children.  Additionally we do some health testing and only breed to lines with a history of good health.
We are members of the Kennel Club Assured Breeder Scheme and all our puppies will be KC registered.  Support is provided for the lifetime of all pups.  Owners will need to sign a contract as it a requirement of us being a Kennel Club Assured Breeder.  Please contact us to view a sample copy of our contract if you have any concerns.
We do not currently have any puppies available and have no breeding plans for the immediate future; however, we are always happy to help people find the right whippet puppy for them so please feel free to email us.
~~~~~~~
To View Our Previous Litters Please Click on Them Below: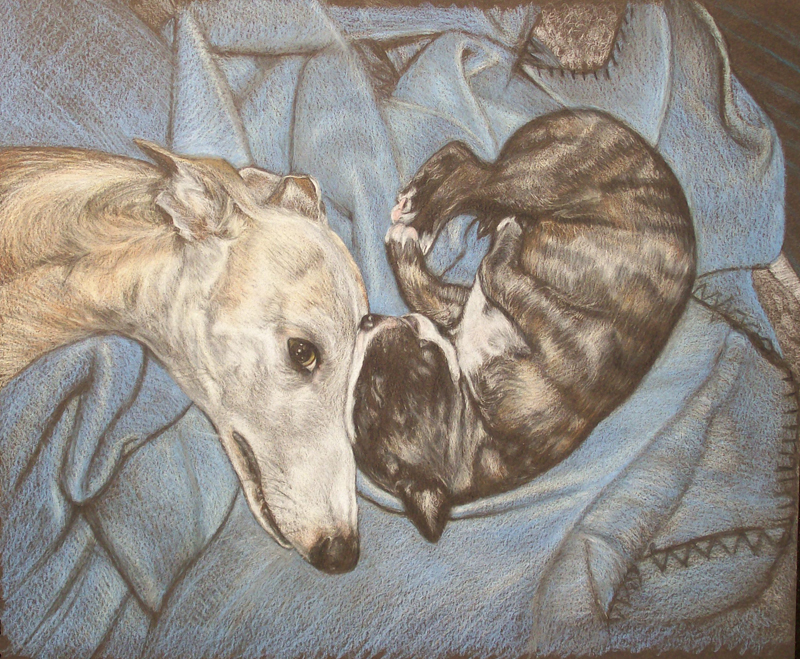 Teya & Tug (Artist © Leah Lamb)
All Photos © Copyright Chelynnah Whippets and/or their respective photographers and may not be used without permission