Aphrael Caoilinn of Chelynnah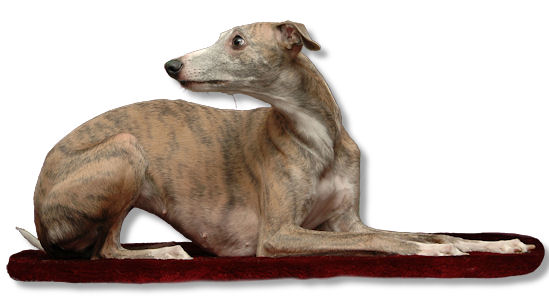 Telyn (or Teya as we call her most commonly) is our Wild Child.  She was yet another dog we hadn't originally planned on!  Funny how life takes turns you don't expect.  We were only going to have TWO dogs at any one time.  Much as we were watching all the puppies on our whippet boards and groups, we were NOT getting a puppy - no matter how broody either of us got.  Then in March of 2004 while chatting with Savannah's breeders they talked about how long it was taking Hari (Aphrael Angharad - Savannah's sister) to come into season and how they were breeding her and who the sire was going to be.  I said to Nick a few days later, a bit off the cuff, 'I would LOVE to have a Hari puppy'.  And he said we should talk about it.  So we talked long and hard about all having a third dog would entail and we decided that we would have one from Hari if they would let us.  When we called to ask if there was room on the list they were thrilled that we wanted one.
Another month or so passed and Hari still didn't come into season.  We wrote her stories and limericks and cajoled her and FINALLY she came in and was bred and when we counted down her due date we realised that it would be very close to my birthday.  At that point we were EXTREMELY glad we had already talked about it and made the decision - as puppies born on my birthday would have convinced us to ask for one even if we weren't prepared!!
As luck and timing would have it the litter WAS born on my birthday!  We were in Stratford for the weekend and were on the double decker open top bus tour (with Chelsea and Savannah up there with us) and every so often the phone would ring announcing the next puppy and the people around us were listening to what was going on and cheering with the arrival of each new pup.  It was sooo nice of Dawn and Richard to include us in that day!  It was very special.
All the puppies were brindle.  Nick wanted one with 'go faster stripes' so we were very excited about it.  The final decision wasn't made until about 4 days before we went to pick her up - and her call name wasn't decided until she was home 24 hours.  Dawn and Richard had very graciously allowed us to pick out her registered name as long as it was Celtic and began with a 'c' so we chose Caoilinn (pronounced Keelin), which means 'slender and comely'.  What better description for a whippet!  For her call name we finally settled on Telyn (pr. TAY-linn) - which is Welsh for 'harp' as her call name, and mostly we now call her Teya for short.
She arrived home with us the first weekend in August - a little bundle of confidence.  She took the 4 hour drive home in her stride with no car sickness, and walked into our house like she owned the place.  Not for one second was she hesitant or worried.  She and Chelsea adored each other from the first second, and Savannah (though she didn't want to play with the puppy) was quite okay with Teya curling up with her and being her new sleeping partner.  Once Teya was big enough to 'fight back' Savannah decided having a little sister to beat up wasn't such a bad idea, and soon we rarely find one without the other (though it's mostly Teya who had forced herself into wherever Savannah was currently lying).
Teya entered the show ring on the 12th of December, 2004 and did extremely well as a puppy, including qualifying for Crufts 2006 at her very first Champ Show, getting two more qualifying places while still in the Puppy classes, and in October 2005 she went BOB and Group 2 at a local Open Show from Junior.  She did struggle a bit at the Champ shows in Junior as she was another slow maturer, but she managed to qualify for Crufts 2007 at Bath Ch Show gaining a first both in Yearling (which qualified her) and in Graduate.  In 2007, just before pulling her from the ring for 'maternity leave' she managed to gain a first place in Post Grad at Paignton Ch Show which qualified her for Crufts 2008!
In August of 2007 we took the brave step of breeding Teya and in October she blessed us with a beautiful litter of 4 puppies..  Please have a look at our 'American Soap Opera Litter'.  She was a fantastic mum to them all - better than we could have hoped for.
Teya returned to the ring in 2008, but it was obvious she only truly enjoyed showing if it was outdoors on a hot sunny day.   Leeds Ch Show in August 2008 was such a day and she finally gained her Stud Book Number with a 3rd place in a quality class!  As we are a 'pet home' first, and a 'show home' second, we have always said if any of the dogs aren't happy to show we won't make them.  After she gained her SBN  we allowed her to let us know when she was happy to show.  We entered her mostly at outdoor summer shows, and only actually showed her on nice days when she could enjoy it.  We also entered her in 'Brace' classes (which she really did seem to enjoy) with her daughter Drama where they were offered.  As a pair they did quite well, placing at both Open and Champ shows in some strong Brace classes. Toward the end of 2010 we decided to retire Teya completely from the show ring.  Bless our little special girl, she's so torn.  She doesn't want to be left behind, but she doesn't want to show either.  Eventually she decided that she's happy enough to stay behind with Chelsea and have a walk or two with one of her human Aunties who take care of them while we're out for the day or weekend. We are also very very proud of our little Wild Child as over the past few years, in order to give her some quality one on one time, we have been taking her to a training class to keep her brain engaged.  She took to the exercises quite quickly, and in the summer of 2010 at one of her last Championship shows we took her Good Citizens Bronze test and she passed!  We never ever believed that was something she could achieve and we were so very proud.  She could do all of it but the 'stay'.  That was her tough one as she is very attached to us, and just didn't want to do the full minute, but she managed it and we were so VERY amazed and proud.  Shortly after that 'Daddy' took over her training classes and has been working very hard.  Currently (2012) she has started to do a full 2 minute stay, she can 'send to bed' from the length of the hall, she is doing so many things we never imagined, so now we are planning to take her Silver CGC test when the next one is available at our training class.  We don't care if she passes or fails, to us just taking it is the pass!! 
All Photos © Copyright Chelynnah Whippets and/or their respective photographers and may not be used without permission