Aphrael Aoife of Chelynnah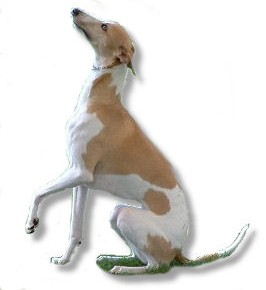 Savannah - our first purebred whippet - came to us at the end of January 2001.  She was born on 28th November 2000.  As with Chelsea, we almost passed her up too!  We almost had a beagle instead.  A friend of ours was looking to re-home their beagle and we considered taking her, but she wasn't happy enough with us - we weren't the right home for her (and she did go on to find a fantastic home where she ruled the roost).  In my discussions on the whippet lists about whippets and beagles, someone contacted us off list and said that if we were looking for a whippet puppy instead that they did have a litter on the way.  It was an interesting thought, but as we were moving soon (from Scotland to the south of England) we figured timing wasn't right both emotionally and financially to get a puppy.  And we put it out of our heads.
Once we decided that we definitely were not taking the beagle we decided to start looking into the prices and availability of whippet puppies for when we would start looking seriously 6-12 months down the road.  We got back in touch with the breeder from earlier to ask her some more questions about whippets/prices/who might be good to contact in a few months (we wanted to know how long we should save for).  She said she still had one girl left and we realised that the price was one we could actually afford now.  After talking they were okay with the fact that we were in the middle of moving.  We had said we would be willing to go back and get her once we got settled in, though we would love to pick her up on the way down south.  They decided she was ready and confident enough to go then, so they agreed that we could have her then.  It was perfect.  She and Chelsea were able to bond on neutral territory.
Chelsea liked the idea of having a companion in theory - but only on her terms.  The puppy could play with her when SHE decided, and heaven forbid Savannah should accidentally step on her while sleeping!  It took her a while to realise she actually LIKED having a sister, but eventually they became pretty much inseparable.  Somewhere along the line Savannah moved ahead of Chelsea in 'pack order', but is quite happy to sit back and let Chelsea play boss unless it's something important to Savvy – and she is now known as The Queen!
We were asked if we would be willing to give showing a try.  It wasn't required of us, but would be appreciated if we would give it a shot.  I agreed and learned as much as I could with very supportive breeders (who unfortunately live at a distance), and a few local people with whippets.  I figured it would last a few months and we'd say we tried, but we found we enjoyed it, and made some fantastic lifelong friends through it.  Whippet people are some of the best!
Savannah has done fairly well in the ring over the past few years.  She was a slow bloomer, but when she was between 2 and 3 she really started to show well and between May and November of 2003 she placed at every show she entered including winning 3 BIS at companion shows; taking a first in the Graduate Bitch Class at Blackpool Championship show, two Reserve BOB's at Open Shows and a BOB/G4 at our local Open Show.  2004 was a little tougher as she moved up a class, but she still won BOB/G4, and 2005 started with a BANG with Savannah winning Reserve Best In Show at a big Open Show which also qualified her for Crufts 2006.  2006 saw her doing well at the Open Shows, but was a difficult year at the Champs.  However in 2007 she found herself a new sense of purpose – she also became a 'Junior Handling' dog.   Our Agility Trainer's daughter, Kiri, needed a dog for Junior Handling so we offered to let her come with us and use Savvy.  Their bond was immediate and strong.  You would never know watching the two of them together that they hadn't been handling together for years.  It's a match made in heaven according to Savannah who adores 'her Kiri' and together they racked up several firsts in Junior Handling and many placings in the Stakes classes.  Kiri even handled Savannah in a breed class taking her all the way to Best of Breed.
For ourselves, our hope for Savannah for 2007 was that we would finally gain her Stud Book Number.  As Savannah was my first show dog, it's been a long journey for both of us, and I had hoped that we could gain her Stud Book Number before she entered Veteran.  We moved her up from Limit to Open partway through the showing season, and in her second Open class ever she took 2nd place and that elusive Stud Book Number was hers!  Then in her next two Open classes she placed VHC in sizeable entries, so what a way to finish out her pre-veteran career.  I couldn't be more proud of our 'baby girl'.
Savannah made her debut in the Veteran Classes in 2008, and actually looked better than ever!  She is one who definitely improves with age. She has done extremely well both in breed classes and mixed classes.  She is consistently in the cards, and has even gone on to Best Veteran Bitch a few times.  At Blackpool Ch Show 2008 she went Best Veteran in Breed.  She still truly loves showing, especially when being handled by Juniors, so for as long as she enjoys showing, we will keep bringing her along.  She especially loves that veterans receive sausages at the Breed Club Shows and would like to start a petition that sausages should be given to veterans at ALL shows!
All Photos © Copyright Chelynnah Whippets and/or their respective photographers and may not be used without permission