Chelynnah Secret Storm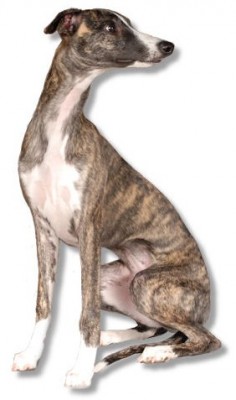 Drama is from our first homebred litter.  She proves the old adage 'never say never'.  Much as we 'never intended to show more than a few months, and we  'never intended to have more than 2 dogs at a time' and much as we 'never intended to breed', it just goes to show that 'if you want to make God laugh tell Him your plans'.  Or in this case, tell Him what you plan NOT to do.  With encouragement from Teya's breeders we bred Teya in August 2007 and in October she presented us with a beautiful litter of 4, 2 boys and 2 girls.  We were lucky enough that all the pups were spoken for from the minute they were born, but as there were only 2 girls we decided to run them both on to 4 months to make our final decision on who we were keeping.
Drama had a plan from the beginning.  From the day she could walk (or should I say 'toddle') she would put herself in my arms.  I would put her down and play with the other pups, and I would look down and there she'd be in the crook of my arm again.  I hardened my heart against this and determined that I would not be swayed.  I would go with whomever was best for showing.  After having both girls evaluated over time by many breeders who's opinions I respect, the common phrase was 'it's splitting hairs'.  They were very even, so there wasn't much in it in conformation, but some preferred the 'flashier' one, but not for any strong reasons.   By this time we adored them both, and keeping our commitment to give one up was becoming more and more difficult, though we knew it was the right thing to do.
We evaluated their personalities and studied them over several weeks (while still watching their conformation) and we based our final decision on who we felt would fit best into each home.  Diamond (who is now Drama) was a bit more diplomatic within the pack and most likely to accept her role at the bottom.  Party (who has since become Jinx) was more of a 'dive in head first' type of pup.  As the home we had lined up had an older male as the potential companion we felt she would do better in a 'top bitch' role.  It wasn't an easy decision - probably the hardest, most heartbreaking one we've ever had to make, but after hearing from Jinx's new owners the first night we knew made the right decision for everyone involved.
Drama has been an absolute star addition to our 'family.  In many ways she has completed it.  The adults adore her, and she is so totally the 'bratty baby sister'.  They let her get away with murder - even Auntie Chelsea!  And she wins the hearts of everyone who meets her.  She has also taken well to the show ring, though we have only shown her lightly as (like her mum and Auntie) she has been taking her time maturing.  We are very pleased with how she's come on and we hope to breed a litter from her in 2011.
All Photos © Copyright Chelynnah Whippets and/or their respective photographers and may not be used without permission