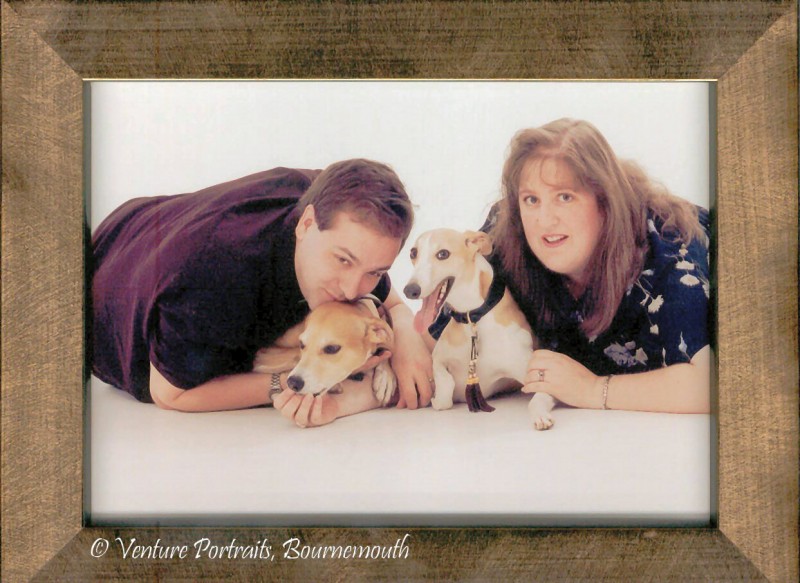 Wendy & Nick Jones met in Guyana South America in June/July 1994.  Wendy, from Canada, brought a team of 14 (9 teens and 5 adults) to the country to build a Church and do theatrical ministry.  Nick, from England, was there on a medical elective.  In the 3½ weeks that Wendy's team was there Nick got to know them all very well and by the end of the trip he and Wendy realised that there was something more there than just a friendship.  After a quick trip to Canada in August for Nick, they got engaged at Christmas and married on the 8th of July 1995.  They lived in Scotland, where Nick was finishing his training, until January 2001 and have now settled in Dorset, on the south coast of England.
Our 'love affair' with the whippet breed began with Chelsea, a 12 week old whippet-terrier mix we rescued in 1998 (once we decided to settle in the UK permanently).  As soon as we realised all the 'quirks' we loved about her were whippet traits we knew our next dog would be a whippet.  In January 2001 we got our 2nd dog (and first whippet) Savannah.  She cemented our love for the breed.
We were already enrolled in agility with Chelsea, so it was natural to start with Savannah.  We didn't compete, but they totally enjoyed the sport!  Savannah's breeders had also asked if we would be willing to show her, so we agreed (thinking it would last a few months) and were well and truly bitten by the 'showing bug'!
We were only ever going to have TWO dogs at a time – NEVER more than that.  Well be careful of saying never!  On 12th June 2004 (Wendy's  birthday) our puppy Telyn was born to Savannah's sister and we brought her home 2 months later.  She did quite well in the show ring (until she decided she'd rather show only when it was blazingly hot and sunny) and she was an absolute STAR at agility (even though we still never competed).  Unfortunately issues with Wendy's health meant that their 'agility for fun' careers were cut shorter than they (the dogs) would have liked.
Although a cross-breed and spayed we lovingly call Chelsea our 'foundation bitch' as without her we would never have found this breed.   After discussion with our breeders when picking up Teya we decided that it was a good idea to apply for an affix so that we could add it to Savvy and Teya's registered names for showing.  We chose Chelynnah ('Chel' from Chelsea, 'elyn' from Telyn, and 'nnah' from Savannah) and the kennel club granted us the affix.  Originally we had never planned to breed, but as things changed, and our love for the breed grew we realised we couldn't rule anything out.  In late 2007 Teya became our true Foundation Bitch and out of that litter we kept Drama.  In 2011 we travelled all the way to Sweden to breed Drama and from that litter we kept Kendra and Emmy.  In September 2012 we lost Chelsea to bone cancer just shy of her 15th birthday.  
We would like to take this opportunity to thank Dawn and Richard Mason of Aphrael Whippets for entrusting us first with Savannah, and then with Teya, and for their ongoing support in our endeavours with our girls.
All Photos © Copyright Chelynnah Whippets and/or their respective photographers and may not be used without permission