This whole experience has been a whirlwind. Only a moment ago these were teeny tiny helpless babies, and now they're all little people ready to head out to a brave new world.
Diamond Boy is the first to go just a few days before Christmas. Tracy and Dawn (Teya's breeder) come down the night before to help evaluate the puppies and ensure that the right pup goes to the right home. Unfortunately Nick has to work, so if it wasn't for them I'd have to deal with this hard day alone.
His new owners arrive and we go through the formalities. We all decide between us that it will definitely be Diamond Boy they take home. We all felt that this was the most likely and talking it through today we all feel this is the best match. He will now be called Beau (Chelynnah Dark Shadows). He was my firstborn, and is now the first to go. This is the part I've been both looking forward to and dreading. I have poured my heart and soul into these babies, and now it's time to send them on, but letting them go is so hard.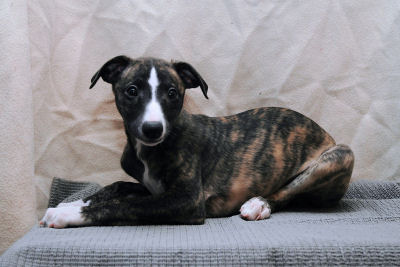 I carry him out to their car and put him into their lap. I try so hard not to feel like I'm abandoning him as I watch them drive away and walk back into the house. I didn't think I would cry. I swore I wouldn't cry. I tear up, but don't actually fall apart until after Tracy and Dawn leave and I am on my own. I KNOW he has a wonderful home but gosh it's so HARD. First litter, first born, first boy, first to leave…
Teya doesn't seem to notice that he's gone, but Chelsea does. She spends the afternoon on the sofa punishing me, and letting the other pups out to play does nothing to get her out of her foul mood. The one thing that brightens my day is that Miss Party decides she's a 'big dog' and asks outside to go potty!! Clever Clever girl! Good Clean Girl. I'm so very proud of my Miss Party Girl.
Later that same evening Brenny's new owner comes to get her. She is a friend of mine and already has a whippet, and wanted a new sibling for her boy Woody. In some ways it is as hard for me to watch Brenny go as it was to watch Diamond Boy leave. But I'm happy for the new chapter in her life that she's about to start.
As the evening progresses I hear from Beau's family. He is being a wild child, but they are thrilled with him. Over the next few days I hear from them again and am pleased to find that while their other two whippets were cautious at first he has wormed his way into their hearts and on Christmas day I receive some photos of him with his new sister and brother Molly and Ludo. They make me happy and sad at the same time, and I wonder if I will always feel this way when I see them or if it will get easier in time.
With Diamond Boy going to his new home, this leaves Bruiser as 'top dog' of the pups. It also means that we can start calling him Tug (Chelynnah Edge of Night), as that is the name his new family chose if he was to be theirs. After breakfast the next morning Teya comes back upstairs to bed followed closely by Tug (who WAS in his pen). Nick returns him to the pen only to find him halfway up the stairs again shortly after. While they are happy to be alone overnight, Tug has decided he would much rather be with the adults after his breakfast, so there is no sleeping in.
He increases his escape artist routine over the next day or so, mostly when we're not in direct eyesight, until we finally catch him in the act. He takes a flying leap at the side of the pen, and then pulls himself over and tumbles off. He almost manages to fly off the top and land on the sofa which earns him the nickname Super Tug! Now that we're down to three I've put cat collars with bells on them during the day. They spend more time outside the pen, but funny how a collar with a bell makes short work of 'Super Tug'. He can't seem to jump when he's so busy scratching…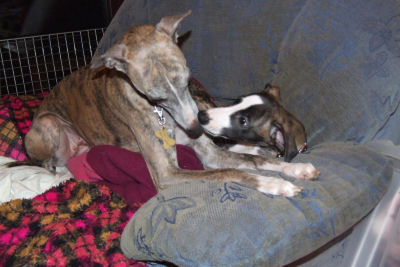 And then comes his day to go home. Part of me is sad that this day has come, and part of me is looking forward to it so that I can take down the pen and integrate the two girls into our family for the next few weeks. 2 days after Christmas his new humans come to get him. They are completely in love with him and were hoping for him from the day he was born. He is going to be a handful and I have every faith that they can cope with him. I wrote this on the board the day he left: "Claire and her husband just picked up Mr Tuglet and are heading home. I am so thrilled with where he is going to be living and I know we'll get LOTS of pics of him with his new human and doggie family, but it's a bittersweet feeling letting them go. I just don't know how anyone can do it on a regular basis. I'm teary 'cause I'm sad and I miss him and I'm teary because I know he's going to have a fantastic life. But man is this whole breeding thing an emotional roller coaster... Wishing my little Tuglet all the best in his wonderful new home! I get to go through this all over again in 2 months with one of the girls. That will be even HARDER!"
It's not quite as hard as letting the first one go, but it certainly isn't easy. This time the others seem to notice more that he has gone, and everyone, including the two remaining pups, is very subdued for the rest of the day.
The next day the puppies are ecstatic to see that the pen is gone and they are now true and proper 'big dogs'. They amuse themselves by running laps round their newfound space, and impress me that for the most part they have potty trained themselves. Most of the time right from the start of their 'freedom' they will ask outside if they have to go between the times when I take them. Only very occasionally do they have accidents.
We dither about what to call them as we're still unsure as to who's staying and who's going and we know what we want to call our 'keeper', so we decide to continue with what they're used to and call them Diamond and Party.
We are very grateful that the people who will be having one of them have been very understanding and are happy to wait a few extra weeks to give us time to evaluate them and decide who we should keep. This will be an extremely hard decision, and letting one of these two precious girls go will be heartbreaking – especially after running her on for so much longer than the boys. The next few weeks will be a new adventure though and I have that to look forward to rather than looking back and feeling the loss of the boys.
click HERE for Part 10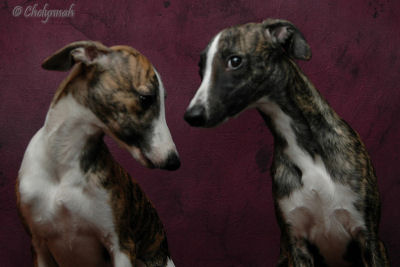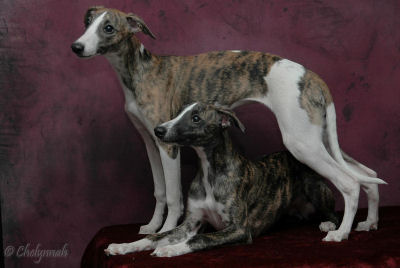 © Wendy Jones, 17th September 2008
All Photos © Copyright Chelynnah Whippets and/or their respective photographers and may not be used without permission
Tags: breeding