Today is probably the hardest day of all as my first breeding experience comes to a close. After running on the two girls to 4 months old, and trying to make the right decision, my heart broke as I handed over my little Party Girl to her new people. They will give her a fantastic home, and I have no doubts in my mind that she will be happy and loved and spoiled absolutely rotten, as is the right of a whippet. But oh how my heart is breaking after watching her drive away, and coming back in to a somewhat quieter house.
I feel good that she trotted out the door full of confidence by herself. Where she is normally full of confidence and quite dominant in the house she is often the shyer of the two when going out. She is still a bit car-sick, so she worries every time we go through the front door that she will be going in the car. But I walk her out in her new 'kisses and hugs' puppy lead, and she follows her new people with a confidence that makes me proud and sad at the same time. They have set up a big comfy crate in the back of their car and we put in a couple of her toys, plus a small pillow of hers so it smells of home for her, and after sniffing cautiously she goes in. We take some pictures and she starts to whine, so we let them get on their way before she starts to stress too much. She watches out the window as the car reverses in the road, and then as they start on their way we see her head duck and we hope that it's because she's thinking about getting comfortable.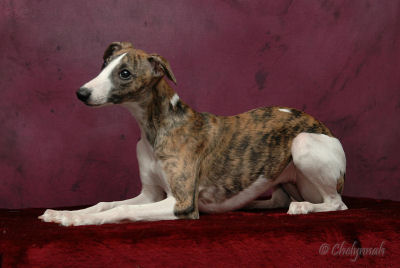 Back in the house the other dogs sense our sadness and try to comfort us. After a quick snuggle Teya looks around, wanders the garden and paces the house a bit – giving the occasional questioning bark. Perhaps she is looking for Party (her partner in crime in recent weeks) or perhaps she knows that it was time for this one to move on, and she is just restless. Although a bit sombre, the dogs are taking it better than I am.
The hardest part of this breeding thing for me is the 'letting go'. I don't know how other people do it. I don't know how parents do it with their kids. If this is how I feel after a few short weeks then how can someone do it after years of parenting? Letting the boys go was sad, but easier because we knew they weren't staying. Letting one of the girls go after keeping them both an extra 10 weeks, and letting them into our hearts even more while trying to decide who was staying is a nightmare. Oh how I wish we could keep them both, but it's not the right thing for us or them, or for the wonderful people who have been patiently waiting to know who their new girl will be. The decision has been made more difficult by the fact that they were both very even. It would have been easier if the show people could have said 'oh definitely this one is clearly better' But no, it was always 'splitting hairs'.
So we made our decision based a teeny bit on who had snagged just a fraction more of my heart (and oh how it hurts to say that and feel that I didn't love the other enough when I truly did), and on who we felt would do best in each home. Party is a bit more dominant, while Diamond, though pushy, is quick to submit to the adults. The last thing I wanted was to end up with problems later on. Party was going to a home with an older male dog, so we felt that being 'top bitch' would be perfect for her. Watching her with her new people today we know we made the right decision as she just adored them straight away. They brought their boy into the garden to introduce him to the puppies, and Party made fast friends with him. I await their call this evening to tell me that all has gone well and that Jinx (Chelynnah Bold N Beautiful), as she will now be known, has settled in like she owns the place. I am sure in no time she will have her family (human and dog) wrapped round her little whippet paws. And that's as it should be.
For us we will move on with our little Diamond Girl who is now Drama (Chelynnah Secret Storm). I have experienced so much with this first breeding of ours. I've felt the extremes of joy and sadness, of pride and of heartbreak. I didn't go into this lightly, and if we do it again, it will not be done lightly then either. Breeding is a huge responsibility. I knew that going in. But the burden of responsibility is offset by those moments of pride and joy when I know my little ones (no matter how hard it was to let them go) are making other families as happy as they made me.
Teya, thank you for giving me such a beautiful litter, and for being such an amazing mum to your pups. Be happy, sweet babies. I hope I did my best by you.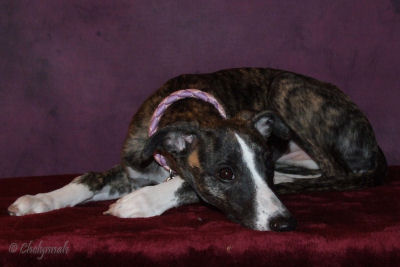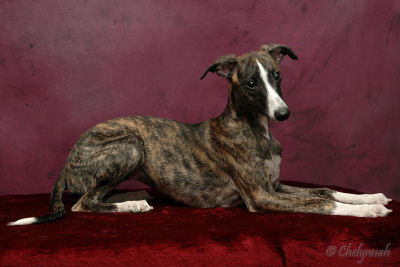 © Wendy Jones, 24th February 2008
All Photos © Copyright Chelynnah Whippets and/or their respective photographers and may not be used without permission
Tags: breeding