'PEDIGREE' OF:
Chelsea Bear of Chelynnah 8th Nov 1997 - 14th Sept 2012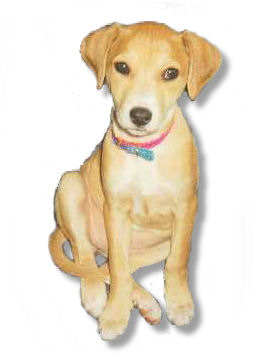 Whippet (Sire)
Angelic
Graceful
Terrier Mix (Dam)
Noisy
Naughty
Chelsea's Companion Show Wins
Chelsea, although a cross-breed, is a pure show dog at heart.  She LOVES to be in the ring and be the centre of attention.  As soon as she walks through the tapes she is 'on show' until the second she walks out.  Any time she hears applause, whether it's for her or not, she believes that it is for her and she joins right in!!  We jokingly call her 'Waggiest Tail' classes the 'Barkingest Dog' class, as if she is excited enough to wag that much she is usually barking right along with it – telling the world how happy she is to be there.
A couple of class definitions:
Fancy Dress = Costume
Judge's Favourite = Dog the Judge would most like to take home
Consolation = Class for all dogs not having won a 1st place
2008
Worthing & District Canine Society Companion Show –20th July 2008
| | | |
| --- | --- | --- |
| Best Veteran | Place:  4th | No. in Class:  28 |
| Judge's Favourite | Place:  4th | No. in Class:  17 |
2007
The Whippet Forum Virtual Dog  Show – May  2007
| | |
| --- | --- |
| Best Veteran Smooth Coated Lurcher | Place:  3rd |
2004
MCC Bournemouth Companion Show –10th January 2004
| | | |
| --- | --- | --- |
| Best Lurcher/Longdog | Place:  3rd | No. in Class:  4 |
| Best Rescue | Place:  3rd | No. in Class:  12 |
Guide Dogs for the Blind Companion Show –23rd May 2004
| | | |
| --- | --- | --- |
| Best Rescue | Place:  4th | No. in Class:  25 |
| Waggiest Tail | Place:  2nd | No. in Class:  15 |
| Musical Mats | Place:  1st | No. in Class:  11 |
Verwood & Three Legged Cross Twinning Society – 29th May 2004
| | | |
| --- | --- | --- |
| AV Crossbreed | Place:  2nd | No. in Class:  5 |
| AV Rescue | Place:  2nd | No. in Class:  5 |
| Waggiest Tail | Place:  1st | No. in Class:  3 |
Southern Counties Canine Association Companion Show – 5th June 2004 (held in conjunction with Southern Counties Championship Show)
| | | |
| --- | --- | --- |
| Waggiest Tail | Place:  1st | No. in Class:  3 |
| Judge's Favourite | Place:  3rd | No. in Class:  12+ |
| Best 6 Legs (with Nick) | Place:  4th | No. in Class:  6 |
Parson Cross Festival Companion Show –10th July 2004
| | | |
| --- | --- | --- |
| Best Rescue | Place:  3rd | No. in Class:  8 |
| Best Cross-Breed | Place:  3rd | No. in Class:  7 |
| Fancy Dress  (footballers with Savvy) | Place:  3rd | No. in Class:  6 |
Swanage Railway Companion Show –25th July 2004
| | | |
| --- | --- | --- |
| Waggiest Tail | Place:  5th | No. in Class:  8 |
| Best Cross-Breed | Place:  6th | No. in Class:  10 |
| Fancy Dress (Dragon) | Place:  7th | No. in Class:  10 |
| Bronze Canine Good Citizens Award | | Passed |
2003
Stray Dog Sanctuary Companion Show – 11th May 2003
| | | |
| --- | --- | --- |
| Waggiest Tail | Place:  3rd | No. in Class:  8 |
| Best Cross-Breed | Place:  2nd | No. in Class:  8 |
Poole Canine Club Companion Show – 18th May 2003
| | | |
| --- | --- | --- |
| Best Cross-Breed | Place:  4th | No. in Class:  10 |
| Fancy Dress (flower) | Place:  4th | No. in Class:  7 |
| Consolation | Place:  4th | No. in Class:  12 |
IAWF & Donkey Sanctuary Companion Show –6th July 2003
| | | |
| --- | --- | --- |
| Musical Mats | Place:  2nd | No. in Class:  12 |
| Prettiest Bitch | Place:  4th | No. in Class:  14 |
| Judge's Favourite | Place:  2nd | No. in Class:  10 |
Swanage Railway Companion Show – 20th July 2003
| | | |
| --- | --- | --- |
| Best Rescue | Place:  6th | No. in Class:  12 |
| Waggiest Tail | Place:  2nd | No. in Class:  9 |
| Best Family of Dogs (with Savvy) | Place:  6th | No. in Class:  10 |
| Consolation | Place:  7th | No. in Class:  15 |
Lytchett Minster Donkey Derby & Companion Show –25th August 2003
| | | |
| --- | --- | --- |
| Best Cross Breed | Place:  3rd | No. in Class:  25 |
Dorset & Somerset Air Ambulance Companion Show – 14th August 2003
| | | |
| --- | --- | --- |
| Best Rescue | Place:  1st | No. in Class:  15+ |
| Waggiest Tail | Place:  5th | No. in Class:  12+ |
Happy Landings Companion Show – 4th October 2003 (held in conjunction with City of Bristol CS Open Show)
| | | |
| --- | --- | --- |
| Any Variety Sporting | Place:  1st | No. in Class:  13 |
MCC Bournemouth Companion Show – 11th October 2003
| | | |
| --- | --- | --- |
| Good Dog and Owner Test | Clear Round | |
| Fancy Dress  (Fantasia Whippets with Savvy) | Place:  3rd | No. in Class:  10 |
| Best Lurcher/Longdog | Place:  3rd | No. in Class:  3 |
2002
Lytchett Minster Donkey Darby Exemption Show –26th August 2002
| | | |
| --- | --- | --- |
| Happiest Dog | Place:  1st | No. in Class:  20+ |
CHATS Christmas Party Fun Show –21th December 2002
Prettiest Bitch

Place:  1st

No. in Class:  8

Fancy Dress  (reindeer with Savvy)

Place:  1st

No. in Class:  6

Dog Most Like Owner

Place:  2nd

No. in Class:  3

Agility Test

Clear Round
2001
Rotary Club of Parkstone Exemption Show – 28th May 2001
| | | |
| --- | --- | --- |
| Best Rescue | Place:  6th | No. in Class:  20+ |
| RACE | Place:  2nd | No. in Race:  6 |
CHATS Christmas Party – 16th December 2001
| | | |
| --- | --- | --- |
| Relay Team | Place:  1st | 2 Teams |
Tags: pedigrees